Pin It Now!
Stylin' Saturday - a place to enjoy the uniqueness of children and their wardrobe choices. Also a place for the momfit - when you just can't get it together for
What I Wore Wednesday
.
Feel free to link up your fashion (non)sense with me!
Last week I said whoever made me the laugh the hardest would win a copy of my book. Gotta give it to Rebekah over at
The Mustaleski Family Circus
. The fashion tips were top notch, but the cry photo put it over the top. Rebekah, please leave a comment with your email and let me know if you want a paperback or Kindle/iBook copy of
Totally Desperate Mom
.
Lydia's tips for the week:
Grab a button and link up below!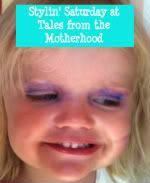 Pin It Now!